The Center: Early Childhood Professional Learning (ECPL) leverages its partnerships with local and national providers to bring you FREE high quality, relevant professional learning focused on preschool English learners (ELs). As part of ECPL's and ISBE's partnership with WIDA Early Years, you have free access to WIDA Early Years eLearning resources which include self-paced, on demand courses and downloadable resources. That's right - free online professional learning resources at your fingertips! ISBE and/or Gateways credit is available.

Live Webinars

02/22/23 - Supporting Young ELs' Social Emotional Development in Culturally Appropriate Ways

03/15/23 - Unleash Their Play by Tapping Into Children's Home Cultures

04/19/23 - Implementing WIDA's Essential Actions in Preschool Programs

Live Online Administrator Academy
01/26/23 - Cultural & Linguistic Diversity in Early Childhood Education

On Demand Courses from WIDA Early Years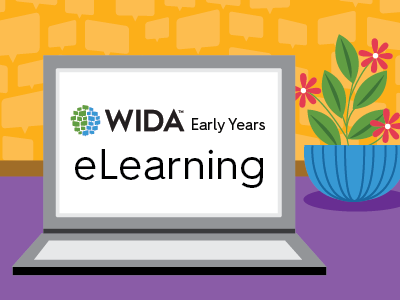 WIDA Early Years eLearning is intended for ECE professionals, including pre-service and in-service teachers, teacher educators, practitioners, coaches, trainers, and leaders/administrators. One hour of ISBE and/or Gateways credit is available upon completion of each course.
 
Ready to start an On Demand Course from WIDA EY eLearning?
Follow the directions to create a WIDA Secure Portal account.
You will receive a confirmation email to finalize setup of your WIDA Secure Portal account. Follow the directions in the email and click the link provided to confirm your account and setup a password.
After you are logged in to the WIDA Secure Portal, select "Professional Learning" from the main menu.
Learn more about the available courses by selecting "Course Details", and click Enroll Now" to enter the course!
Dual Language Learners and their Families
Dual Language Learners with Disabilities
Making Connections
Scaffolding Language Learning
Are We Ready? What K-12 Educators Can Do to Support Young Multilingual Children
NEW! Essential Actions Resource Kit
NEW! Exploring WIDA Early Years Essential Actions
Recorded Webinars
5/18/2022 - Frequently Asked Questions about Serving English Learners in Preschool Programs
Downloadable Resources

Making Connections, is a comprehensive resource that offers suggestions, tools, and sample plans for teachers who use the Illinois Early Learning and Developmental Standards and WIDA Early Years resources to plan equitable learning opportunities to young multilingual children.

Multilingual Children and Their Families - Snapshot
Promoting Equity for Young Multilingual Children and Their Families 
WIDA Early Years Guiding Principles of Language Development

Frequently Asked Questions - Serving English Learners in Preschool Programs in Illinois Public School Districts (Revised March 2022)
Videos
ISU Preschool Videos Featuring Bilingual Preschool Teacher, Eva Gonzalez Heredia 
Teaching at the Beginning: 20 Videos of young dual language learners in early childhood education settings
 
We gratefully acknowledge our partnership with ISBE that brings these resources to the early care and education (ECE) community across Illinois.
Questions? Issues with content on this page? Contact ec@cntrmail.org