As part of The Center: Early Childhood Professional Learning (ECPL) and ISBE's partnership with WIDA Early Years, you have free access to WIDA Early Years eLearning resources which include self-paced online courses and other resources. That's right - free online professional learning resources at your fingertips!
IMPORTANT NOTE:
WIDA Early Years eLearning is on the move! WIDA Early Years eLearning is moving to the WIDA Secure Portal, a members-only hub for WIDA professional learning courses and resources, on October 1, 2021. Learn more about WIDA Early Years eLearning, what's changing, and what you can do to get ready.
All in-progress modules in Moodle must be completed and certificates of completion printed/downloaded by September 30, 2021.
We invite you to bookmark this page and use it as your "one stop shop" for free professional development related to multilingual preschoolers in Illinois.

ECPL leverages its partnerships with local and national PD providers to bring you FREE high quality, relevant content right when you need it. This page lists upcoming live webinars and on demand professional development. ISBE and/or Gateways credit is available.

Live Webinars
Introduction to Making Connections: A Language-Focused Approach to Planning Equitable Learning Opportunities
Join this interactive webinar to deepen your understanding about the Making Connections resource and three language-focused planning tools. Participants will have an opportunity to practice using the tools and to engage in activities introduced in an Early Years eWorkshop. Provided by WIDA EY staff.

Understanding How Young Children Learn Multiple Languages
Is it helpful or harmful to grow up learning 2+ languages?  What does it mean when a child switches between languages as they speak? Join us as we answer these common questions and more while learning about best practices for DLLs. Provided by ECPL staff.

Promising Practices Implementation Kit Webinar
The Promising Practices Implementation Kit is available for free to ECE professionals in Illinois. Join us to learn more about this exciting resource! The Kit offers: guidelines for supporting multilingual children and families, practical suggestions and voices from the field, opportunities for self-reflection, examples of individual pathways for self-study, support for data-informed decision-making.  Provided by WIDA EY Staff.

Supporting Young English Learners' Social Emotional Development in Culturally Appropriate Ways
Join us as we explore and then bring together two frameworks: the Pyramid Model for social-emotional competence and West Ed's Bridging Cultures framework. After looking at each framework separately, we will use them to guide our analysis of free online SEL resources. We will brainstorm practical steps and ideas for implementing culturally appropriate practices that also enhance children's social-emotional development. Provided by ECPL Staff.

Unleash Their Play by Tapping into Children's Home Cultures
Children are more likely to engage in high levels of play when they are immersed in an engaging environment. What better way to engage children in play than to recreate aspects of their home cultures and home life in the dramatic play area? Spend time reflecting on your students' home languages and cultures in light of your current teaching practices. Leave with action steps for creating more culturally relevant dramatic play areas.

Sharing a Vision Equity Symposium Session: How Do Children Develop Languages? Implications for Educators in Diverse Settings
Presented by Iliana Alanis, PhD, and María G. Arreguín, EdD

Live Online Administrator Academy

AA#1925 - Cultural and Linguistic Diversity in Early Childhood Education
Now is the time to empower early childhood educators across Illinois to provide an equitable high quality education for our young English learners (ELs). The population of ELs continues to grow statewide. At least 10% of all Illinois students are ELs and 92 of 102 counties now serve ELs. Use this session to examine your management systems and program service areas that impact ELs. Walk away with clear action steps to move your EC program forward. Collaboration between Illinois Principals Association and ECPL.
On Demand Courses from WIDA Early Years eLearning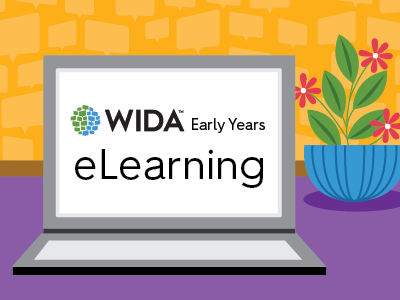 WIDA Early Years eLearning is intended for ECE professionals, including pre-service and in-service teachers, teacher educators, practitioners, coaches, trainers, and leaders/administrators. One hour of ISBE and/or Gateways credit is available upon completion of each course. Course titles include:
Dual Language Learners and their Families
Dual Language Learners with Disabilities
Making Connections
Scaffolding Language Learning
Promising Practices
Are We Ready? What K-12 Educators Can Do to Support Young Multilingual Children
Ready to start an On Demand Course from WIDA EY eLearning?
1. Go to https://go.wisc.edu/2ik3k9 
2. Follow the directions to create a WIDA Secure Portal account.
3. You will receive a confirmation email to finalize setup of your WIDA Secure Portal account. Follow the directions in the email and click the link provided to confirm your account and setup a password.
4. After you are logged in to the WIDA Secure Portal, select "Professional Learning" from the main menu.
5. Learn more about the available courses by selecting "Course Details," and click "Enroll Now" to enter the course!
Downloadable Resources

We gratefully acknowledge our partnership with ISBE that brings these resources to the early care and education (ECE) community across Illinois.
Questions?  Issues with content on this page? Contact ec@cntrmail.org